About the Author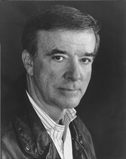 Edward Barr Robinson, son of Scots immigrants, began writing during his high school years in Glendale, California, eventually receiving his master's degree in journalism from UCLA. At the university he was editor-in-chief of both the campus newspaper and magazine, then took a 30-year break to obtain another master's degree in business and become a successful shopping center developer.
However, the background materials for The Godhead were accumulating during that 30-year period. Early on he was drafted into the Army and trained for 18 months in the Ryukyu Islands with the 75th, formerly the 1075th, Regimental Combat Team--the "Merrill's Marauders." This RCT was apparently being jungle-trained as a possible back-up to the French in their Indo-China war in 1954, and the Marauders were in fact flown out of Kadena airport on Okinawa for Vietnam during the Dien Bien Phu battle, M-1's between their knees. They were turned around and returned in mid-flight, which initiated the author's curiosity about the strange twists that America's national policies were taking during the early days of Vietnam. Which in turn resulted in the writing of The Godhead.
Much more than just a historical glimpse of the pre-Vietnam War era, The Godhead to a greater extent reflects Mr. Robinson's life-long fascination with physics and philosophy, specifically with the disciplines of quantum mechanics and eastern mysticism. He had begun, very early, to notice the eerily neat parallels between the two subjects, which have been buttressed in publications like The Tao of Physics by Fritjof Capra and The Dancing Wu Li Masters by Gary Zukav. But in The Godhead the author has attempted to extend these parallels into a basic foundation for all human action, as reflected in the thoughts, actions and developments of the novel's protagonist.
Mr. Robinson is qualified to make such an attempt. Aside from his professional credentials, he has also been admitted as a a lifetime member of Mensa and, on another level, recently served as worldwide Regent of the Triple Nine Society, which limits its membership to those in the 99.9th intelligence percentile. And the challenge of incorporating his observations into a novel like The Godhead has always been one of his lifetime goals.
The author now lives on Lido Isle in Newport Beach, California with his wife Jean and can be reached at robinson@thegodhead.net.